Convention Review: Kids Read Comics
on
June 30, 2014
at
12:00 am
Kids Read Comics is a unique convention in that it's specifically targeted to children and younger readers. It takes place in the Ann Arbor Public Library, right in my hometown, and it's the perfect alignment of literature and visual narrative. There wasn't a lot of cosplay, but there were a lot of kids and a lot of families checking out all of the all-ages offerings, original art and merch, and of course – the comics.
This is the perfect show for first-timers looking to get a feel for comic conventions and not have to worry about anything inappropriate for the younger reader in your house. Heck, since it was in the library, many parents were even just dropping their kids off with money in hand to make purchases.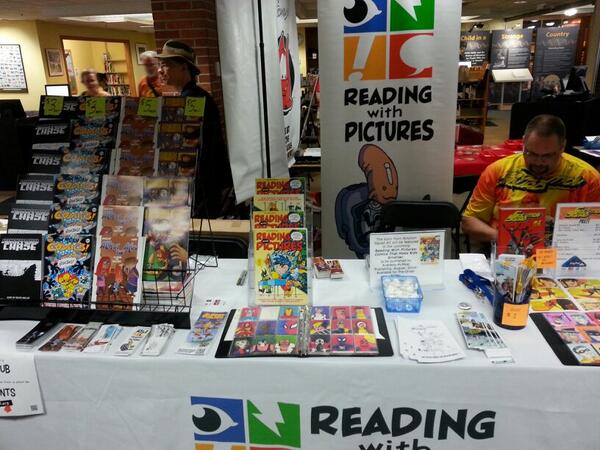 The table is all set up. Check out that new vertical display!
The show lasts for two days, but I was only able to attend for one day this year (I had family obligations), but I definitely plan to come back again next year! During that time I made a lot of new fans for Albert the Alien, as well as for my other all-ages work in general. And since we were in a library, many of the parents and librarians on hand were thrilled with the announcements of Reading with Pictures vol 2 coming out later this year (with a brand new Albert story in it).
Yes, it was a great weekend all around. Plus, the library is only blocks away from my LCS growing up, The Vault of Midnight. I've been going to this comic store for over 18 years, and they just opened their second location in Grand Rapids (I have yet to check that one out). It's an amazing store filled with toys, games, comics and so much more!
I highly recommend Kids Read Comics as the next convention (or the first convention) you attend with your kids.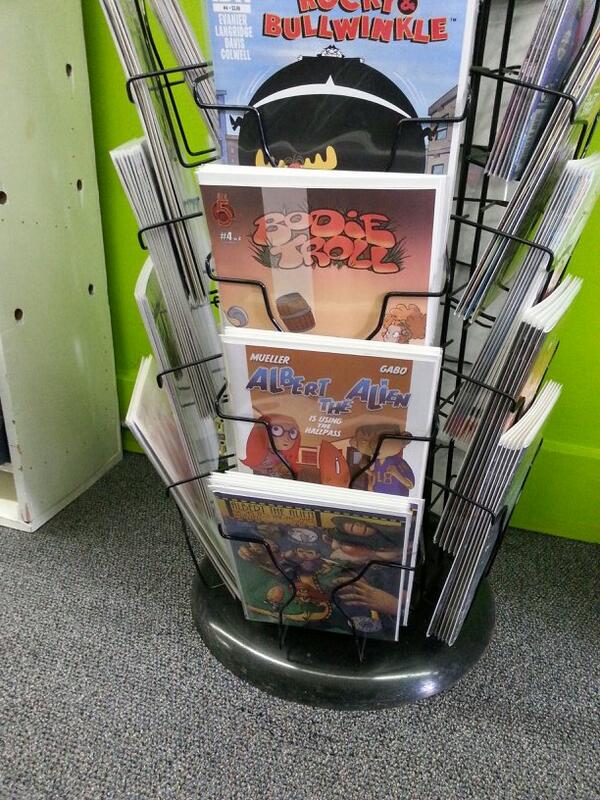 Albert the Alien is in the all-ages spinner rack at the Vault of Midnight